Record high water levels have been smashed on Lake St. Clair which is forcing Tecumseh to brace for the inevitable.
Town staff are warning residents to start preparing for inland flooding because Lake St. Clair is seven inches higher than the record high of 1986.
"Tecumseh will flood with these lake levels, it happened in 1986 when the last record was set and we are now above that. Residents and business owners need to prepare themselves," said Tecumseh Mayor Gary McNamara. "Our neighbour municipalities have experienced it and it seems inevitable for Tecumseh. I am telling everyone, get your property set, get an evacuation kit put together and make sure we have your contact information in our notification system."
Residents can register their contact information at www.tecumseh.ca/emergencynotification.
The town stated in a news release that it has been working to shore up low lying areas along Riverside Drive and protect all town pump stations because any north/north-east wind or heavy rain event will drive the lake to breach the shore and flood properties.
Residents are being encouraged to take appropriate steps to protect their property, themselves and their families, especially family members who are elderly or have limited mobility. Residents are also being urged to make an evacuation plan, including having an evacuation kit and a safe place to go in case of an evacuation. Details on how to protect your property and put together an evacuation kit.  Detour routes will soon be posted at www.tecumseh.ca/floodprotection.
In case of an emergency and evacuation order, the town reminds the public not to drive down roads that have been flooded, leave immediately when an evacuation is ordered and stay out of flooded areas either by walking or by using a floatation device.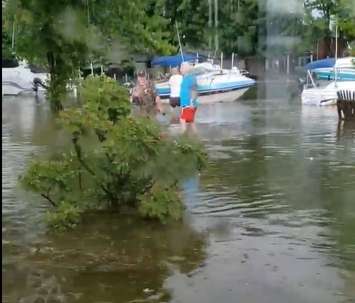 Flooding consumes yards in Lighthouse Cove after a storm in June. (Photo submitted by Shelly Jack Copeland)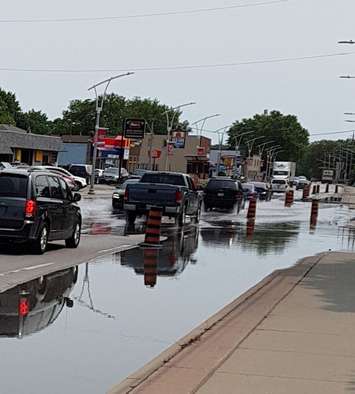 Flooding is seen on Front Road in LaSalle on July 8, 2019. Photo courtesy of Town of LaSalle.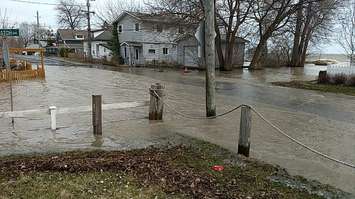 The Essex Region Conservation Authority has issued a flood warning until Saturday. Apr 11, 2019. (Photo courtesy of ERCA)


Tecumseh's Flood Emergency Control Group met again Tuesday morning to talk about high lake levels, overland flooding and how to prepare for an emergency.
The Essex Region Conservation Authority (ERCA) has extended a flood watch until October 1 and said Lake St. Clair is now sitting seven inches above the high recorded 33 years ago. Water levels have already breached shorelines in Leamington, Kingsville, Amherstburg, LaSalle, Lakeshore and Windsor and some residents on Riverside Drive have noticed flooding in their backyards.
The ERCA is hosting several High Water Information Sessions in Windsor-Essex beginning August 12 at the Atlas Tube Centre in Lakeshore from 7:15 p.m. to 8:30 p.m.