Windsor police are looking for four suspects wanted in connection to what they've called a targeted and "callous" assault in downtown Windsor.
Investigators say a fight broke out around 3 a.m. Saturday on Chatham Street West. During the altercation, a group of individuals chased a 26-year-old man to the intersection of Pelissier Street and University Avenue. The victim was slammed to the ground and repeatedly kicked and punched.
"It's cowardice. To kick an unconscious human being on the ground is just completely cowardice and callous. It's just something we're not going to tolerate in our city core," said Staff Sergeant Dave Tennent.
The victim was taken to the hospital and is still in critical condition.
"We believe that this incident was targeted. We don't think that this incident was a random act of violence so there is some background. We don't know exactly what the motive is right now until we get all of the information," said Tennent.
Police received CCTV footage of the incident from nearby businesses and traffic cameras.
On Monday, a 25-year-old was arrested and charged with aggravated assault.
Four other suspects are still at large. Investigators have identified another 25-year-old who is wanted in connection to the incident.
The other suspects are still unknown. Investigators are asking the public and potential witnesses to come forward with information to help identify them.
The first suspect is described as a Black man with a muscular build and short black hair. He's around 6'-6'2" tall. At the time of the incident, he wore a Nike tracksuit jacket with pink sleeves, black pants, and white basketball shoes with black trim on the bottom.
The second suspect is described as a Middle Eastern man in his early 20s with black hair and a beard. He's around 5'10-6' tall. At the time of the incident, he wore a Chicago Bulls basketball cap, a black shirt, black pants, and red running shoes.
The third suspect is described as a Black man in his early 20s with short dreadlocks. He's around 5'10" -6' tall. He was wearing a black jacket, grey sweatpants with black trim on the pockets and black Jordan running shoes.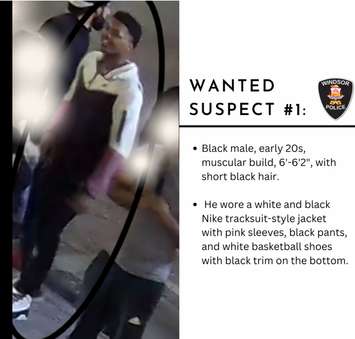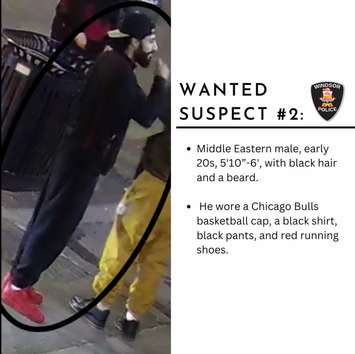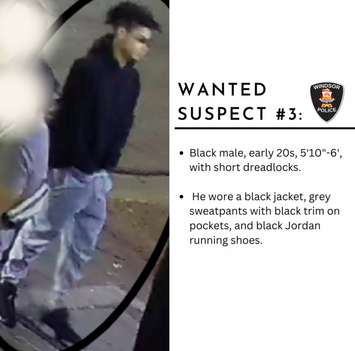 All of the suspects are wanted for aggravated assault.
Anyone with information on the suspects is asked to call the Major Crimes Unit at 519-255-6700, ext. 4830. They can also contact investigators anonymously at 519-258-8477 (TIPS).