Fire officials have concluded an investigation into a fire at a downtown Windsor smoke shop that caused $100,000 in damage.
Flames erupted at the Havana Smoke Shop and Convenience in the 500-block of Ouellette Ave. at 11:45am Monday.
Investigators say the fire started in the storage room, but the cause is undetermined.
Firefighters contained the fire although they continue to fight hot spots in the rear of the store.
Nearby businesses, including The Manchester Pub suffered smoke damage. The Manchester Pub is already cleaning up after a water main break Sunday afternoon.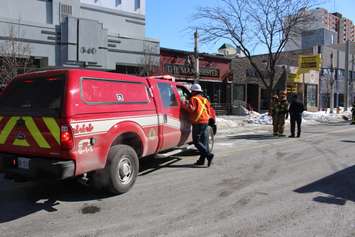 Windsor firefighters respond to a blaze at Havana Smoke Shop & Convenience in the 500-block of Ouellette Ave. downtown, February 23, 2015. (Photo by Mike Vlasveld)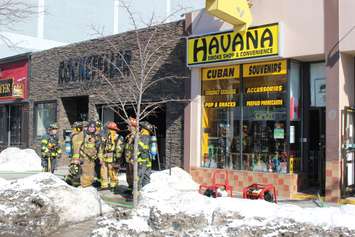 Windsor firefighters respond to a blaze at Havana Smoke Shop & Convenience in the 500-block of Ouellette Ave. downtown, February 23, 2015. (Photo by Mike Vlasveld)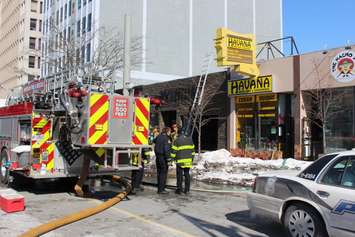 Windsor firefighters respond to a blaze at Havana Smoke Shop & Convenience in the 500-block of Ouellette Ave. downtown, February 23, 2015. (Photo by Mike Vlasveld)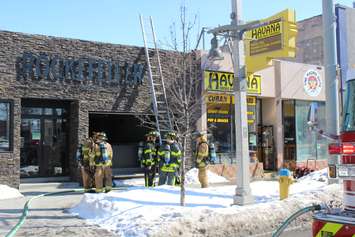 Windsor firefighters respond to a blaze at Havana Smoke Shop & Convenience in the 500-block of Ouellette Ave. downtown, February 23, 2015. (Photo by Mike Vlasveld)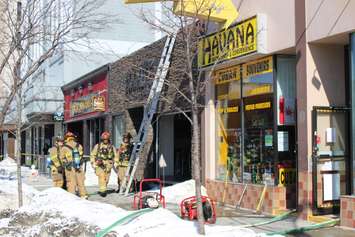 Windsor firefighters respond to a blaze at Havana Smoke Shop & Convenience in the 500-block of Ouellette Ave. downtown, February 23, 2015. (Photo by Mike Vlasveld)