Windsor police are hoping new technology can help them identify a suspect in a nearly 45-year-old murder of a young girl.
Ljubica Topic. Photo courtesy of Windsor Police Service.
Ljubica Topic was 6 years old when she was last seen on May 14, 1971, playing outside her Drouillard Rd. home with her older brother. A man approached the two children and offered Ljubica money to come with him. Four hours later, after an extensive search by police and the community, Ljubica body was found severely beaten in the rear yard of 1690 Hickory Rd.
A suspect was never arrested.
Police have now utilized new DNA technology called phenotyping to create a composite sketch of the suspect. DNA was sent to a company called Parabon NanoLabs in Virginia and put through the company's Snapshot system used to predict physical appearance and ancestry of unidentified DNA evidence.
"What we have here is a composite, which is again an estimation of what someone is going to look like, rather than based on witness testimony it's based on a person's DNA," says Windsor Police Constable Scott Chapman.
Based on the phenotype analysis the person of interest was most likely fair-skinned, had brown or hazel eyes, brown or black hair and zero or few freckles. The technology predicts these features with 89-97% confidence. The technology also predicts the person is almost entirely European, primarily from the regions of North West Europe.
Windsor police use DNA evidence to put together a suspect image in the 1971 murder of a six-year-old girl. (Photo courtesy Windsor police)
Ellen Greytak Director of Bioinformatic with Parabon says they are able to make these predictions by comparing the sample DNA to a database of DNA information and the physical appearance associated with that DNA.
"The first thing we need to do is dig into that DNA data and mine it to find what are the parts of the genome or pieces of DNA that are significant for understanding each trait," says Greytak.
By doing this the company has been able to identify markers in the DNA that indicate a certain trait like blue eyes. Now they can then run unknown DNA into their database to predict physical traits based on those markers.
The appearance of the person may be significantly different from the pictures provided because environmental factors like drinking and diet cannot be predicted with DNA. However, Chapman says police in the US have had success with using the technology to assist in cases.
"When a new technology comes to the fore front, similar to when DNA came to the fore front in the late 1980s, I think you have to examine whether or not it's going to be beneficial to the investigation," says Chapman.
Chapman said police are trying to generate more interest and tips in the investigation by releasing these images.
Last year police released new information in the case about a missing tooth found on the crime scene hoping it would lead to a potential suspect. Chapman says since that time they've received a number of tips and have been able to rule out over 20 people of interest using DNA evidence.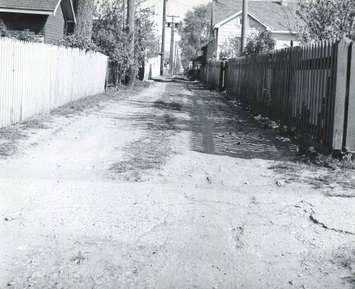 Photo provided by Windsor Police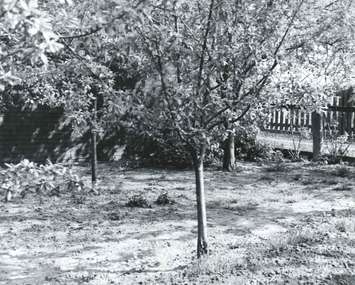 Photo provided by Windsor Police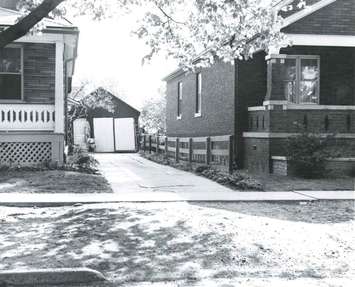 Photo provided by Windsor Police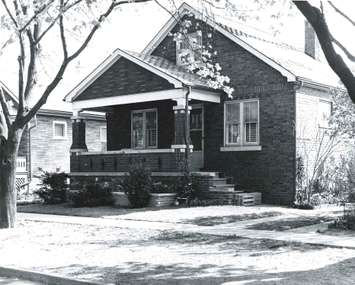 Photo provided by Windsor Police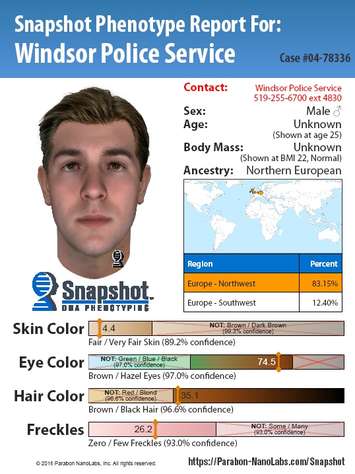 DNA composite of the person of interest in Ljubica Topic's murder. (Provided by Windsor Police)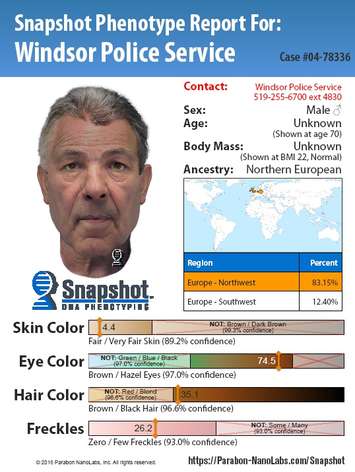 DNA composite of the person of interest in Ljubica Topic's murder. (Provided by Windsor Police)